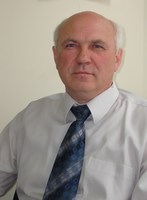 date of birth: March 19, 1954
Contacts:
office in the Department: M-300
E-mail:
ShikhinVA@mpei.ru
Phone: +7-916-987-29-95
Activities in the Department
Academic title: associate Professor
Academic degree: candidate of technical Sciences
courses:
• the lecturer of the course "
operations Research
"
• the lecturer of the course "
diagnostics of power objects
"
• the lecturer of the course "
Control
"
Publications teacher:
•
Kosinsky M. Yu., V. A. Shahin
"the Development of neuro models for analysis of operational reliability of the automated systems» // mechatronics, automation, control. No. 6 — 2012. — p. 16-21
•
sedletsky G. S., sedletsky S. B., Shahin, V. A.
"the Solution to the problem of assessment of operational reliability of power grid equipment through the application of neural network technology» // automation in industry. No. 11 — 2012. — p. 37-42
•
Shahin V. A.,CUI Ya-ni1, REN Jia1, DU Wen-cai1
"多无人船通信网络拓扑优化控制算法 Network topology optimization control algorithm for multiple unmanned surface vehicle" // 封面封底 Control Theory&Applications, Vol.33 #12 Dec2016 pp1639-1649 — 2016. — p.
•
Shahin V. A.
"a Textbook of Control systems theory fundamentals" // M.: MPEI Publishing House, 2017. - 144 p. ISBN 978-5-383-01121-8 — 2017. — p.
•
Shahin V. A.,G. Chrysostomou, A. Shikhina
"Article: Electrical Energy Supply Control Support via Meters Ellipsoidal Approximation Data in Smart Grids" // Procedia Computer Science, Elsevier Press, Vol.103, 2017, pp. 287-294 — 2017. — p.
UNIR:
• research in the field of reliability analysis and management of cyber-physical systems. Optimization and automation of the energy and technological processes.